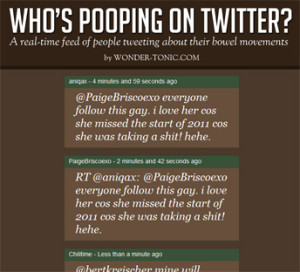 No, I'm not being pessimistic here. I'm merely wishing all of you a Happy New Year, and telling you about the latest and greatest thing the interwebs have to offer: Who's Pooping On Twitter?
That's right, a site that keeps track (in real-time) of who is tweeting while sh*tting, about sh*tting. Proof there's hope for mankind…
About The Author
Chris Gas is a web development manager, amateur photographer, and musician passionate about helping small businesses grow. He is the founder of Fantastic Edge Marketing. View his public profile on LinkedIn.