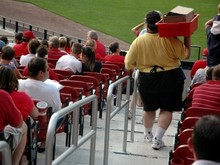 'Since the beginning of beer vendors, we've been walking up and down the aisles seeing who wants a beer. I'm going to try to change that,' says Kevin Zelco. He's a a vendor at Safeco Field, home to the Seattle Mariners, and he hopes the new venture will revolutionise his beer trade.
Talk about customer service! They take orders directly via Twitter and hand deliver drinks to fans at their seats.
A service like this may ease some of the sting of paying $8-14 for a beer at a professional sports arena. Would you tweet for beer?
About The Author
Chris Gas is a web development manager, amateur photographer, and musician passionate about helping small businesses grow. He is the founder of Fantastic Edge Marketing. View his public profile on LinkedIn.